[vc_row][vc_column][vc_column_text]This article is brought to you thanks to #IllegalyHealed[/vc_column_text][vc_column_text]
Christine Stenquist is a 42-year-old mother of four from Kaysville, Utah, who says using medical cannabis gave her her life back and that more patients, even in states where it is illegal, need to make themselves heard.
Christine spent two decades in excruciating pain, cycling through pain meds, trapped in the quiet darkness of her bedroom. In 2012 she tried medical cannabis and since that time has weaned off her pharmaceuticals and founded the Drug Policy Project of Utah. By coming out of the cannabis closet, she has led the change for medical cannabis legislation in the state.
[/vc_column_text][vc_single_image image="1380" img_size="large" alignment="center"][vc_column_text]Christine was raised in Miami by her father, a proud Vietnam Veteran and well-respected narcotics officer. Christine's father participated in the second-biggest cocaine bust in Miami history and served on the force for 27 years, and it wasn't until she received his blessing that she tried cannabis.[/vc_column_text][vc_column_text css_animation="top-to-bottom"]
The Pain Begins
[/vc_column_text][vc_column_text css_animation="appear"]
Christine has been suffering from severe and chronic migraines since the age of seven. In her twenties a tumor was discovered in her brain and in 1996 she was diagnosed with an acoustic neuroma and underwent brain surgery to remove a portion of the tumor. Doctors could not remove the entire tumor for fear of causing nerve damage to her face and body. The tumor is benign and portions of it still sit on various nerves in her brain.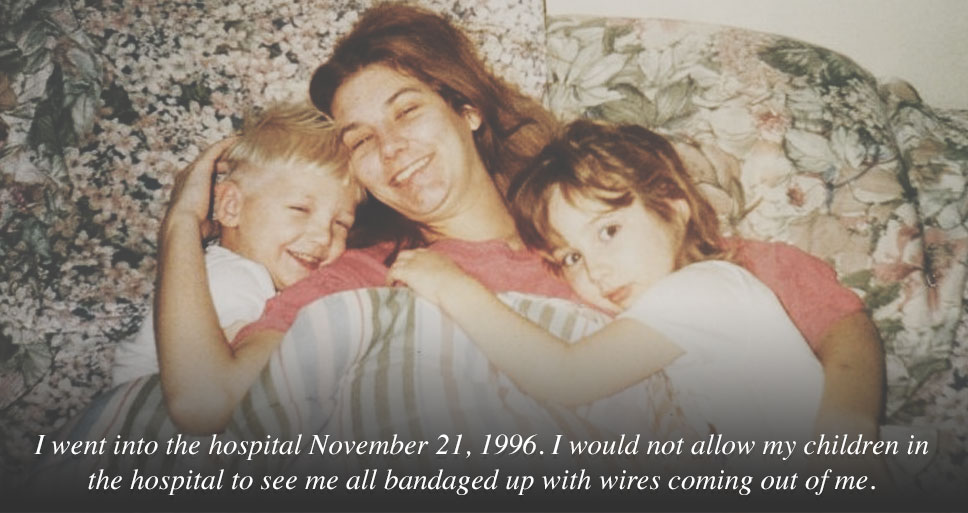 The symptoms of fibromyalgia came 15 months after brain surgery. She started having muscle spasms, vertigo, balance issues and unrelenting migraine pain. As her symptoms became increasingly severe, she could no longer hold a job, and so began over a decade in pain cycling through prescription drugs.
[/vc_column_text][vc_column_text css_animation="bottom-to-top"]
The Doctors Try Almost Everything
Her doctors continued to prescribe various painkillers, steroids, anti-depressants and anti-seizure medications. She received a steady dose of morphine through fentanyl patches and 450mg fentanyl suckers for breakthrough pain. She was prescribed over 60 Percocet a month, received trigger point injections at a pain clinic and got nerve ablations, to no avail.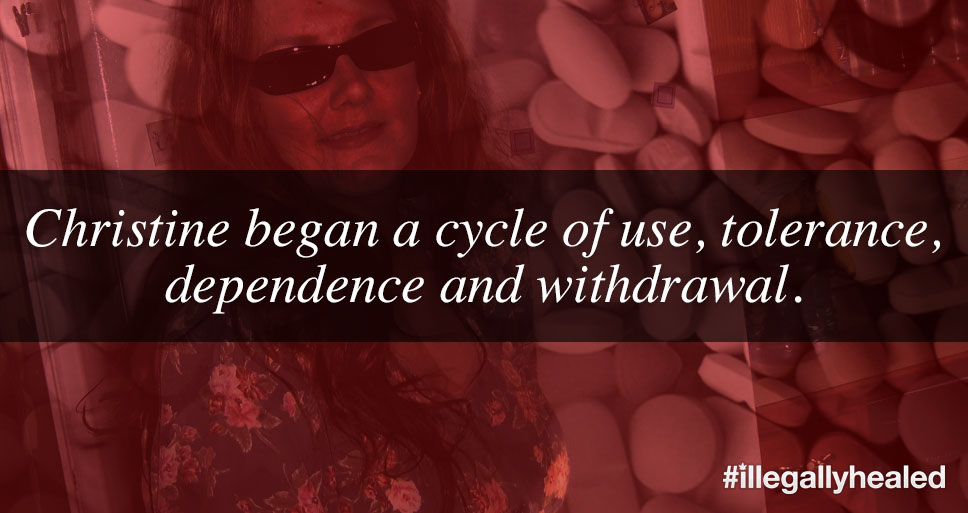 Christine cycled through over 30 drugs. At one point she was prescribed Marinol, a drug made of synthesized THC, to help with the nausea caused by the migraines, which she says exacerbated her condition, caused anxiety and made it difficult to stay awake.
Christine maintains a lot of guilt from using her prescription pharmaceuticals, as she didn't use recreational drugs, nor was she comfortable being so heavily medicated. But, she says, it was all her doctors could do to treat the blinding pain.
In the fall of 2011 Christine became so ill she lost most of her mental and physical function. After three to five weeks in bed she was no longer walking or eating and wasting quickly. She was suffering painful migraines that kept her awake vomiting from the pain and has started having seizures. At that point her husband had to physically carry her into the shower just to bathe.
Christine says the low point came that winter when she had been in so much pain that she cut her arms to see if she could feel it anymore. Her husband got nervous and took her to the hospital where a doctor asked her if she was suicidal. She said that she wasn't, but she was just in too much pain. The doctor offered her more medication.
"I had been on that stuff for years, I couldn't do it anymore. My husband collapsed on the ground, he was just sobbing because after three months of me in bed and him caring for me and still maintaining a full-time job and caring for our children, it had just become too much." says Christine. "We had hit the point where there were no more answers, no more help, no relief."
[/vc_column_text][vc_column_text css_animation="top-to-bottom"]
Reconciling with the Drug War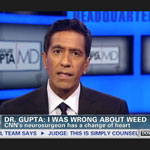 In 2013, the accepted success of medical cannabis started to work its way into the mainstream via Dr. Sanjay Gupta, CNN's chief medical correspondent, neurosurgeon and one-time Obama Administration pick for Surgeon General of the United States. Gupta apologized publicly for not taking the issue seriously.
"I apologize because I didn't look hard enough, until now," Gupta said. "I didn't review papers from smaller labs in other countries doing some remarkable research, and I was too dismissive of the loud chorus of legitimate patients whose symptoms improved on cannabis."
After reading news articles and seeing television specials, Christine began to wonder if medical cannabis could help her, but it wasn't until her father, the former narcotics cop, suggested she try it that she finally decided to do it.
"Part of me trying it was getting the ok from my father. I have a lot of respect for the law and for my dad," says Christine. "I was able to try it because he was completely supportive."
[/vc_column_text][vc_column_text css_animation="appear"]
Finding Relief With Cannabis
"The first year I was using I would cry and battle with the fact that I am breaking the law, but at the same time I am feeling good," she says. "I used to cry often when I used my medicine. I would lock myself in my room and seal it off so the kids couldn't smell it. I didn't know what it was going to do to them. There was little information out there for patients. I lived in ignorance and I felt like a criminal locked up, but was so elated that something was finally helping me. It was very conflicting dealing with that. I was always plagued with guilt and anxiety."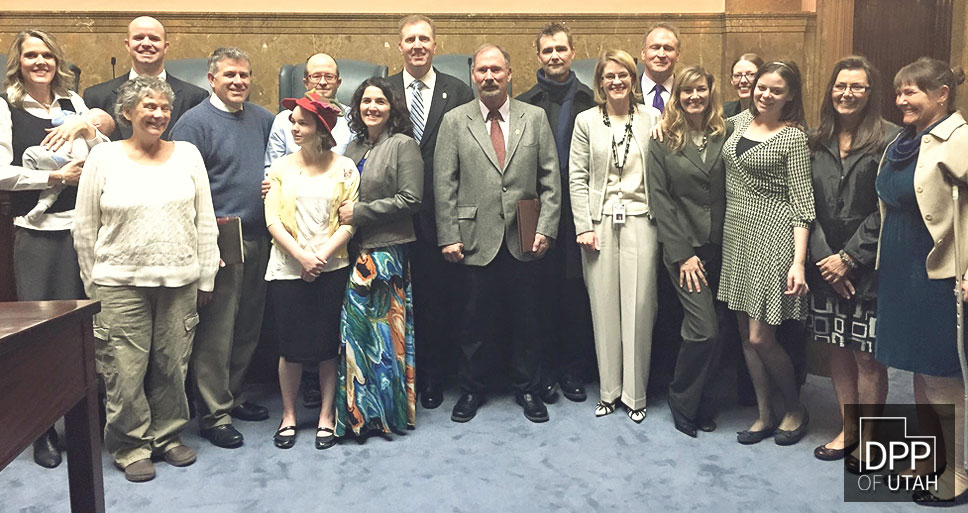 As more time passed Christine weaned herself off more pharmaceuticals and today is pharmaceutical free and can walk, drive and be present in her familys' lives. After regaining her health, Christine founded the Drug Policy Project of Utah and became the executive director of the organization.[/vc_column_text][vc_column_text css_animation="top-to-bottom"]
Leading the Change in Utah
In February, she bravely told her story publicly in support of S.B. 259, the medical cannabis legislation that narrowly failed in the Utah Senate this year. By coming out of the cannabis closet, thousands of other patients have now been making themselves heard in Utah.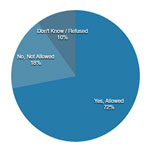 There is overwhelming support for medical cannabis in the state. Last month, the Libertas Institute released a poll in conjunction with the Drug Policy Project of Utah evidencing the overwhelming support for safe access to medical cannabis. Seventy-two percent of Utahns support the issue, including 66 percent of Republicans and 67 percent of Mormons.
Christine's goal today is to organize local patients and build the critical mass needed to get the medical cannabis legislation passed in 2016.
"I think people need to see a different face of medical cannabis users. They need to see that it is their moms and dads, their sisters and brothers their aunts, and uncles. It is their family members and members of our community who are suffering," she concludes.[/vc_column_text][/vc_column][/vc_row]
[vc_row full_width="" parallax="" parallax_image=""][vc_column width="1/1"][vc_column_text css_animation="top-to-bottom"]This article is brought to you thanks to #IllegalyHealed[/vc_column_text][vc_separator color="grey" align="align_center"][/vc_column][/vc_row][vc_row full_width="" parallax="" parallax_image=""][vc_column width="1/1"][vc_column_text]
Tenille Farr is a devout Mormon. She grew up the fifth of nine children in small, rural, Rockland, Idaho. She served a mission for the Church of Jesus Christ of Latter-day Saints (LDS) before attending Brigham Young University, where she met her husband. They got married and she became the mother to five beautiful young boys.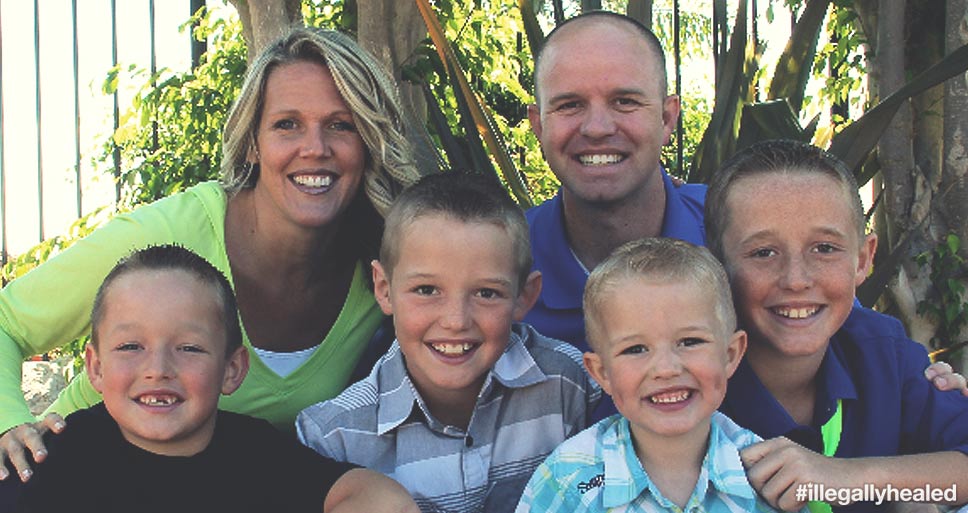 [/vc_column_text][vc_column_text css_animation="appear"]
While Farr was pregnant with her fifth son, Gabe, she was diagnosed with stage-2 Hodgkin's Lymphoma. If she underwent chemotherapy to treat the cancer, she risked losing Gabe or delivering him prematurely at severe risk to his health.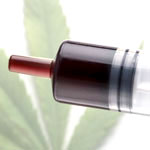 After much thought, prayer and research she decided to leave her family and home in Spanish Fork, Utah, to treat her cancer naturally with herbs and medical cannabis in Colorado and California, where the treatments are legal.
Through juicing whole-plant cannabis leaves and consuming full extract cannabis oil, she was able to stop the spread of her cancer, alleviate her symptoms and deliver a healthy baby this January.
Studies have shown there is no long-term risk to medical cannabis use in pregnancy. Research dating back to 1991 provides data on the development of 59 Jamaican children, from birth to age 5 years, whose mothers used marijuana during pregnancy.
[/vc_column_text][vc_column_text css_animation="left-to-right"]
"Studies of newborns, infants, and children show no consistent physical, developmental, or cognitive deficits related to prenatal marijuana exposure." – Marijuana Myths, Marijuana Facts (via drfranklucido.com)
[/vc_column_text][vc_column_text]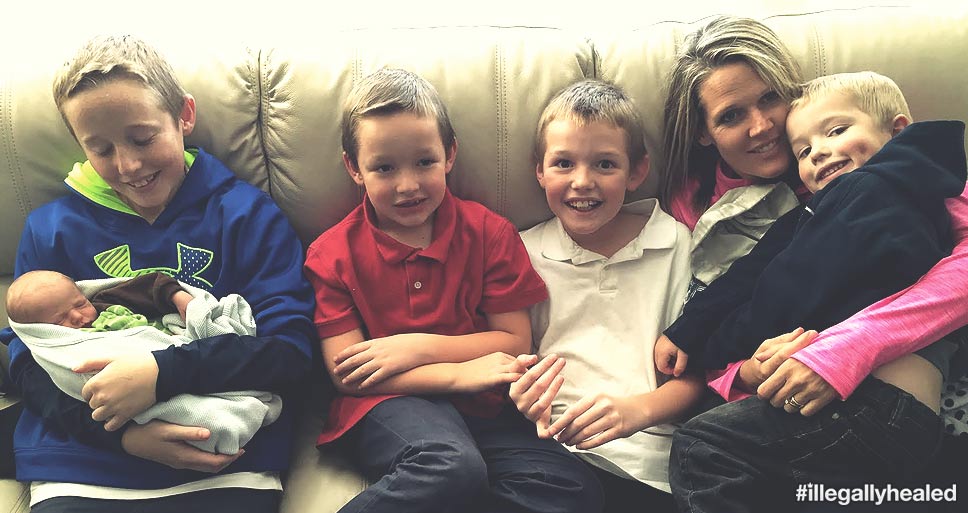 [/vc_column_text][vc_column_text css_animation="top-to-bottom"]
Since returning home to Utah, Farr has stopped using cannabis. Her religious convictions, which are shared by 90 percent of the Utah state legislature, preclude her from breaking the law. She still has cancer that needs to be treated and some of her symptoms have returned.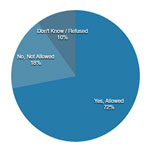 There is overwhelming support for medical cannabis in Utah. Last month, the Libertas Institute in conjunction with the Drug Policy Project of Utah released a poll evidencing the overwhelming support for safe access to medical cannabis. Seventy-two percent of Utahns support the issue, including 66 percent of Republicans and 67 percent of Mormons.
Farr was a public advocate for S.B. 259, a bill in the Utah state legislature that would have legalized whole-plant medical cannabis for patients with a range of conditions, including cancer. The bill died by one flipped vote, but Farr is still working to support the bill's passage next year.
Tenille Farr still has cancer, and due to her religious beliefs, will not break the law to continue using the treatment. Now she has a choice—leave her boys again to treat the cancer, or stay in Utah and risk her health to obey the law.
You can follow Tenille on her blog: "This Tale to Tell" a blog about courage and faith.
[/vc_column_text][/vc_column][/vc_row]
This article is brought to you thanks to #IllegalyHealed
Emily and Aaron Campbell have traveled the globe together. Emily grew up in New York and Milwaukee and later met her husband in Minnesota. Aaron served a mission in Uruguay for the Church of Jesus Christ of Latter-day Saints before they married and had five children. They chose to live abroad; they wanted to show their children the world.
In 2012 they learned three of their five children had an extremely rare and fatal neurodegenerative disease, metachromatic leukodystrophy (MLD), for which there is no cure. Three of their five children would suffer greatly and slowly die.
In September, their oldest daughter Victoria (Tori) was the first to die.
"Watching our daughter pass away was the hardest thing that ever happened in my life," Emily says.
The Campbells aren't afraid to speak publicly about bringing full extract cannabis oil to their 16-year-old daughter, Madelena (Maddie), who suffers from the same symptoms as her sister Tori did. The Campbells say cannabis relieves Maddie's pain and allows her to walk, write, improves and regulates her moods and slowed the progression of her disease.
In 2010, the Campbells were living in Uruguay. Their oldest daughter, then 13-year-old Tori, was thriving in school. She had been skipped a grade ahead, was bilingual and was in the gifted and talented education (GATE) program. The Campbells grew concerned when she started slipping in school, she had become clumsy, moody and her memory was poor, she was often becoming confused. They moved to Orem, Utah, where Aaron grew up, so they could be closer to family and get Tori the educational help she needed.
The onset of the symptoms was so slow it was hardly noticeable at first. Emily says they attributed Tori's symptoms to adolescence because she had been growing rapidly at the time. They began seeing specialists and therapists. At the same time, Maddie started struggling with depression, mood swings and other psychological issues. When Tori was diagnosed with the rare disease, the rest of the children were also tested. Both Maddie and younger brother Ike tested positive for the fatal illness.
MLD is rare, occurring in 1 in 40,000 to 1 in 160,000 births worldwide. The Campbell children have late juvenile onset MLD, the rarest form of the condition, with symptoms beginning to present around age 14. MLD presents both physically and psychologically, with physical degeneration similar to multiple sclerosis in addition to problems with mood, memory and emotional imbalance.
Over time the myelin, or protective lining of nerves in the brain and body, irreparably breaks down. Aaron describes the disease as potholes in a highway. Over time the neurological highways that control his children's body and brain functions get filled with potholes. Even if the road stops becoming damaged, however, it can never be fixed.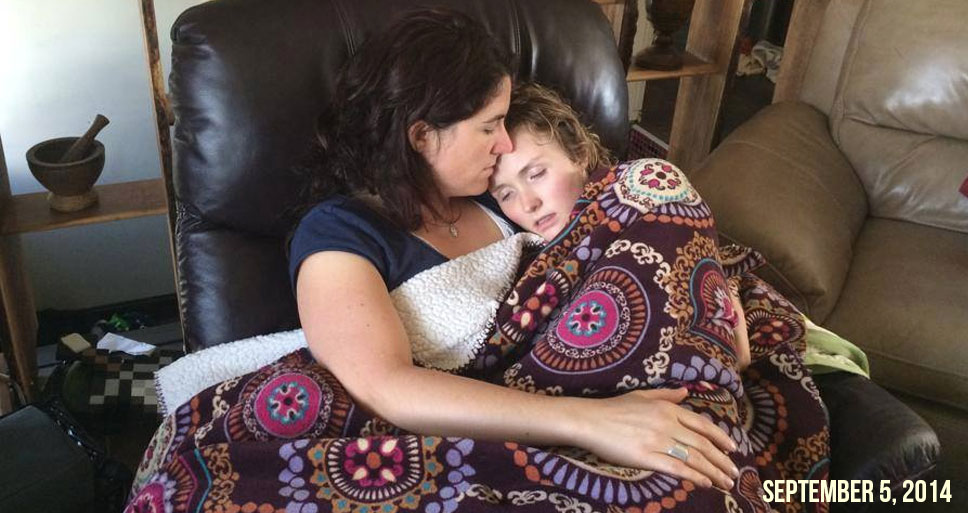 Patients suffering and dying of MLD live in extreme pain. Progression of the disease is slow and teens who have the disease will generally live two to five years with neurological torment and pain before they eventually die. Tori lived for two years after diagnosis.
"She was in so much pain, she was miserable and desperately hurting. She was on fentanyl, morphine and so many other painkillers. I felt like she couldn't really be there in the end because she was so drugged up on these pharmaceuticals. We resolved we would never let that happen again," Emily says.
The only hope the Campbell family had was chemotherapy and bone marrow transplants. If those options worked, they would stop the progression of the disease, although it could never be reversed. Even though the transplants went perfectly, it was too late to save Tori and has not worked to stop the progression of Maddie's disease.
As Maddie declines, the physical and psychological effects are easily visible to friends, family and teachers. Her memory loss, lack of motor control, apathy and chronic pain were mirroring the same path as her sister's.  She has suffered seizures and been prescribed deadly drugs to control them. She has difficulty walking and remembering. Before using cannabis, she would alternate between depressed, even suicidal, and manic.
"It was like she was trapped in her own body. You could see it in her eyes, her eyes were dead, it wasn't her," Emily says.
At the same time the girls were getting bone marrow transplants, CNN debuted its special report "Weed", hosted by neurosurgeon and CNN chief medical correspondent Sanjay Gupta. The now 3-part series is credited with bringing the acceptance of medical cannabis to the mainstream.
Emily saw the documentary and started researching. She said she was nervous to even look into the topic; she had a stigmatized perception of cannabis growing up.
When the transplants failed, the Campbells had run out of traditional medical options. They had nothing left to do but try to make their children comfortable through the process. They reached out to friends, family and experts. Many suggested they try medical cannabis and even offered to help them get it.
"After Tori passed away in September we desparately needed something to give us hope so we put Maddie on a 4-week trial of cannabis oil. I was shocked that it worked so easily and it was so simple," Aaron says. "When we gave her the cannabis oil the seizures stopped right away.""
"We got our Maddie back," Emily says.
The Campbells have become vocal proponents of medical cannabis legislation in Utah and campaigned in support of S.B. 259, which would have created a comprehensive medical marijuana program for a range of conditions in Utah. The legislation, sponsored by Sen. Mark Madsen (R-Saratoga Springs), was defeated by one flipped vote in the state senate despite polls evidencing overwhelming support among all demographics in the state. Madsen has already taken steps to introduce the legislation in the 2016 session.
When the bill didn't pass, the Campbells were public about their determination to continue treating their daughter illegally while fighting to reform the law. Aaron says more families need to speak up and have their voices heard by both the public and their legislators. The family has documented their journey in local media and continues to advocate publicly.
"I am breaking the law to save my child from having an immense amount of pain and suffering for the next few years, I am doing it to save my daughter's life," Aaron says. "We have really very little to lose."
The Campbells say speaking openly is the right thing to do. Emily says they could have given Maddie the oil privately and nobody would have ever known, but they say seeing how greatly it has improved Maddie's life they wanted to take the risk so that everyone who could benefit could have access, not just them.
"As a Mormon missionary I would go teach people about this religion they didn't know anything about and then they would have these personal experiences where they would be converted and then they would just be on fire. I felt like I had the same experience as I learned about the medicinal properties of cannabis and how it could bless my children's lives."
Emily says she was disappointed the bill didn't pass this year but understands there is an education gap to be filled with the legislators who opposed it. Before the experience with her daughters she says she felt the same way as them about the issue.
"But doing the research and learning the truth, that it helps people, it took me a little while to get there, to make that shift. You grow up your whole life believing something and it takes awhile to change. I understand their [legislators] hesitation, but I urge them to do the research and find out," Emily says.
"It's a free country so we should be able to do what is needed," Maddie says.